FAQ Wedding Planner App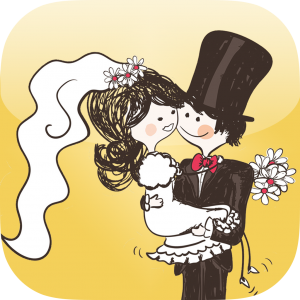 Enter answer here
Sure. Simply scroll to Decebmer 31 - and than scroll one more time.
Please add English a second prefered language in your iOS setting.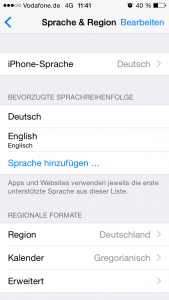 Enter answer here
1. Bitte klicken sie auf der Countdown Seite oben links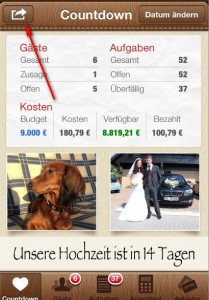 2. Anschließend auf Einstellungen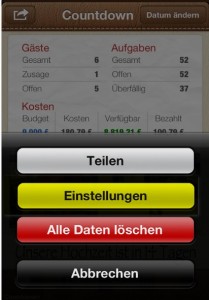 3. Dort die Synchronisation einschalten und einen Account erstellen.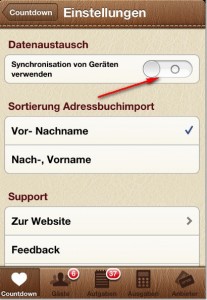 4. Anschließend die App auf dem anderen iPhone / iPod / iPad installieren, nach dem ersten Start der App auf "Synchronisation verwenden" klicken (nicht auf "Planung starten") und mit dem selben Account vom iPhone einloggen.
Anschließend sollte sich die App mit allen nötigen Daten füllen.
Please check the following points under Settings / Data exchange:
synchronization enabled? li>
Is the correct account set li>
If the app "freezes" when entering login data might help this tip li>

If everything does not help, please run on device under "settings / data exchange /re-initialize synchronization".
No.
Please exit the app via the multitasking bar.
Proceed as follows:
From the Home screen, click the Home button twice.
Tap and hold on the app.
When it starts to jiggle, tap the

to close it.
Double-click the Home button and try opening the app again.
http://support.apple.com/kb/ht5137
When you start the app on a second device you have to press the left button on the "Enter Wedding Date" page. When you press the right button you will start a new wedding planning.

Please delete all the duplicated entries.
For entering or modifying budget just click on the blue "$0"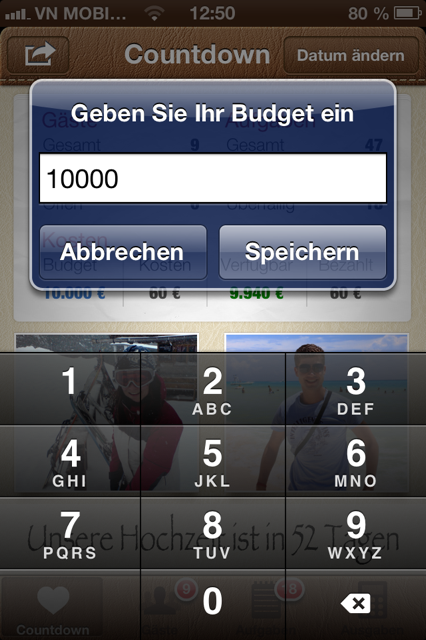 Check in Settings / Mail, Contacts, Calendar which is defined as the default account for contacts. This account is used as data source
Children can be registered since the update to version 1.4. The age could be stored in the note field.
.
The whole would look something like this:.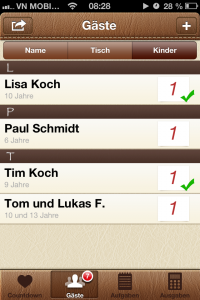 .
Sending the guest list mail to yourself, copy list from mail and paste into a blank Excel sheet